bcarso gave me a tip from Horowitz and Hill "Art of Electronics" 3rd Edition on the low rbb Diodes Inc./Zetex ZTX851 (NPN) and ZTX951 (PNP) transistors.
Circuit boards and assembled and tested Flat Balanced Input Moving Coil Phono Preamps are available now.
Product links:
Assembled and Tested
:
https://ka-electronics.com/shop/index.p ... uct_id=104
Bare PC Board
:
https://ka-electronics.com/shop/index.p ... uct_id=105
Assembly and Test Information
https://proaudiodesignforum.com/forum/p ... f=7&t=1179
July 15, 2019. Updated schematic:
viewtopic.php?f=6&t=783&start=370#p13030
Diodes Inc. ZTX851 datasheet
:
http://www.diodes.com/_files/datasheets/ZTX851.pdf
Diodes Inc. ZTX951 datasheet:
http://www.diodes.com/_files/datasheets/ZTX951.pdf
Art of Electronics:
http://www.amazon.com/Art-Electronics-P ... 521809266/
The TO-92 Zetex ZTX851/951 are designed for "emergency lighting" and are not characterized for small-signal or noise performance.
The rbb at 10 mA on the ZTX851 however is reported to be below 2 Ohms.
See:
http://www.diyaudio.com/forums/solid-st ... ost4078616
http://www.circuitsonline.net/forum/vie ... 71#1719171
The noise performance of the Zetex ZTX851 turns out to be very, very good.
This is the test circuit I used to see how well it would be as a moving coil preamp.
No effort has been made to address the DC performance - output offset is allowed to develop.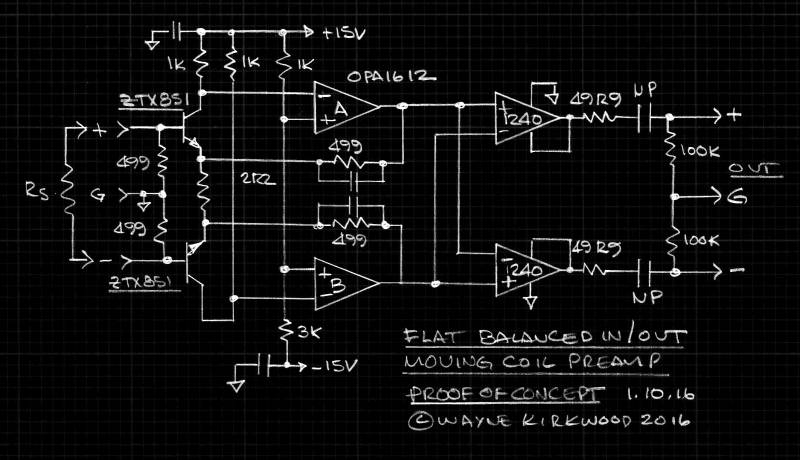 A Balanced Input Balanced Output Flat Preamp for Moving Coil Cartridges or Mic Preamps Using the ZTX851. Proof of Concept Schematic.
The circuit is based on Demrow et al with Cohen low noise optimization.
Ic is 7.5 mA.
Rsource 10R
Gain (unbalanced out) +53dB (calculated)
ein -140 dBu 20 kHz BW 0.54 nV/sqrtHz
A 1R Rsource comes in around -142 dBu ein.
The ZTX851 also does quite well at lower Ic.
The gain measured just under 53 dB owing to protoboard contact resistance to the 2R2 Rgain resistor so the noise may be a tad higher.
I need to melt solder to know for sure.
I haven't measured the bias current but Ios - cartridge current - comes in at 80 nA.
An ein of -140dBu works out to be 18 Ohms. Subtracting 10R for the source and 2R2 for Rgain leaves an rbb of about 2.9 Ohms per transistor.
An NJM2068 provides almost identical noise performance to the far more expensive OPA1612 at the expense of bandwidth.
An NJM2114 is easily 3 dB noisier in this circuit.