Hello!
I would like to introduce myself: my name is Magnus, I'm from Norway and I've been secretely lurking this amazing forum the last years. Was about time to step out of the shadows
Thanks for having me, and in the occasion, I'd love to share with you what has been my biggest foray in pro audio DIY so far, a 24 channel discrete API styled summing mixer based on the DIY racked DR2402 that I just recently finished after years of work. It's great to finally put it to use! It's been a labor of love, sweat and frustration, but man have I learned alot and improved my diy skills quite a bit.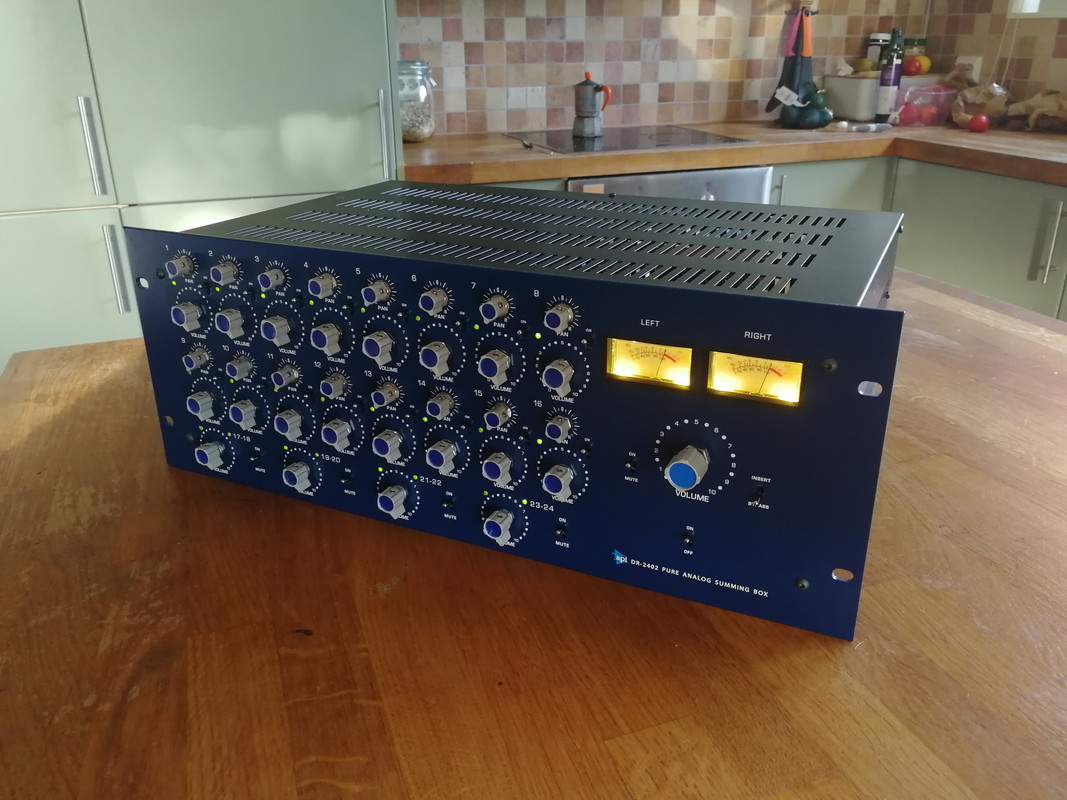 Milled aluminium clones of the API knobs! We all mix with our eyes you know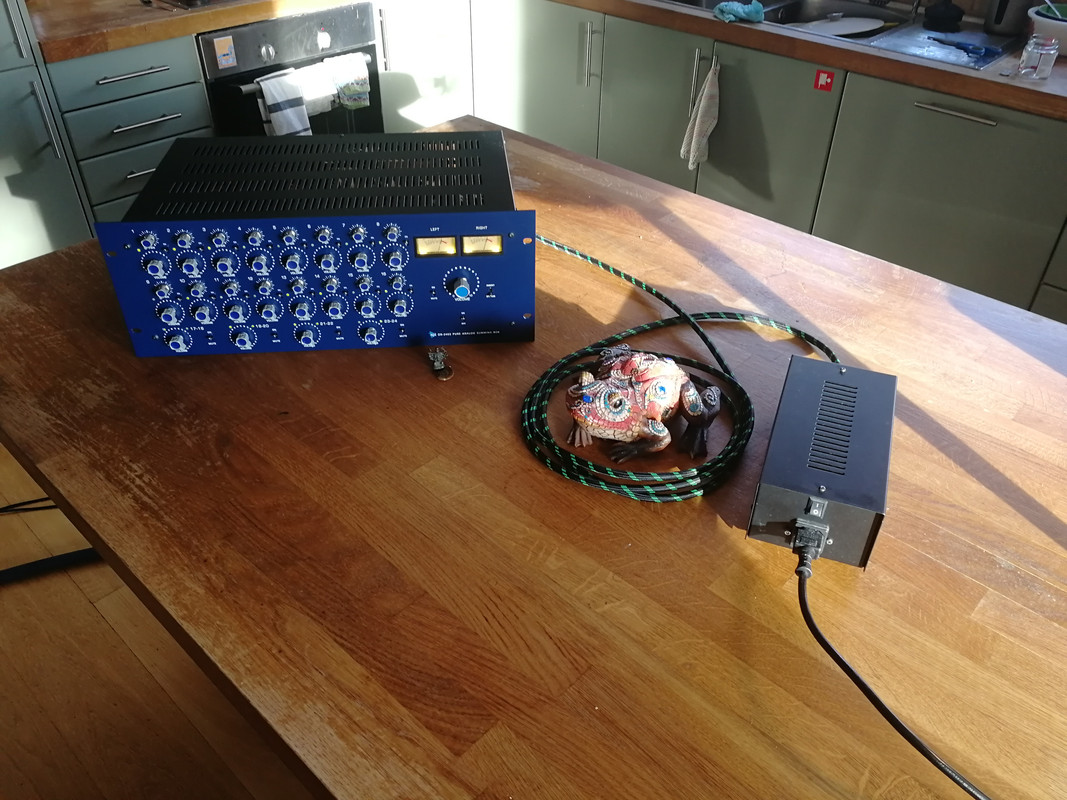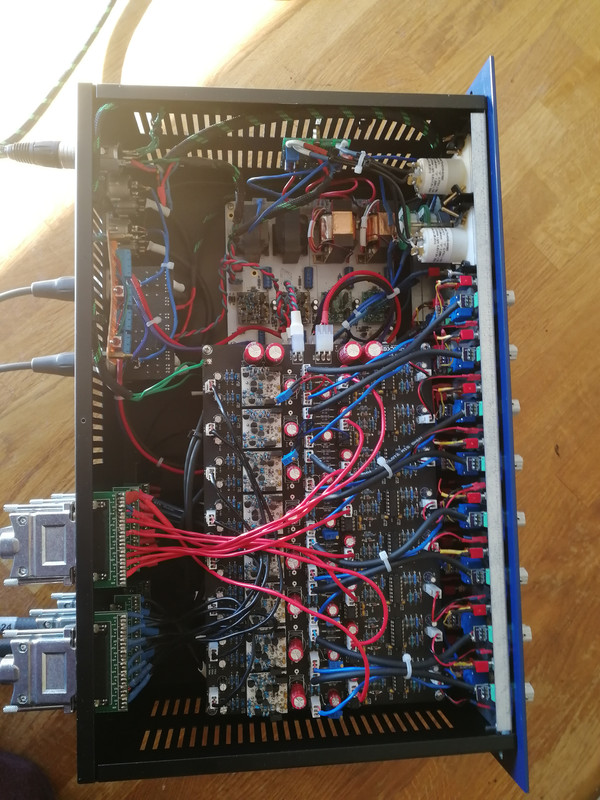 24 channels of differential opamp receivers, 16 mono channels with detented pan-pots and 4 stereo at the bottom. Signal detection/overload bicolor leds and conductive plastic potentiometers on each channel into ACA/BO from CAPI.
Hand built discrete 2520 opamps on all inputs. GAR in receivers, 1731 in summing and Red Dots in the post fader amp. 28 2520's in total
Tons of wiring and quite a bit of metalwork considering this was a partial kit (diy-racked.com), as a pretty unsophisticated case/pcb combo (without schematics :facepalm:) where you basically had to rework most parts of the case and frontpanel for the recommended parts to fit
this project would have been such a joy if the pcb's had board mounted pots and idc's for input/output cabling directly to dsub, with a case that fits snugly. Instead, you get to practice your wire soldering skills
All the problems I've had in the build process has been due to wiring problems.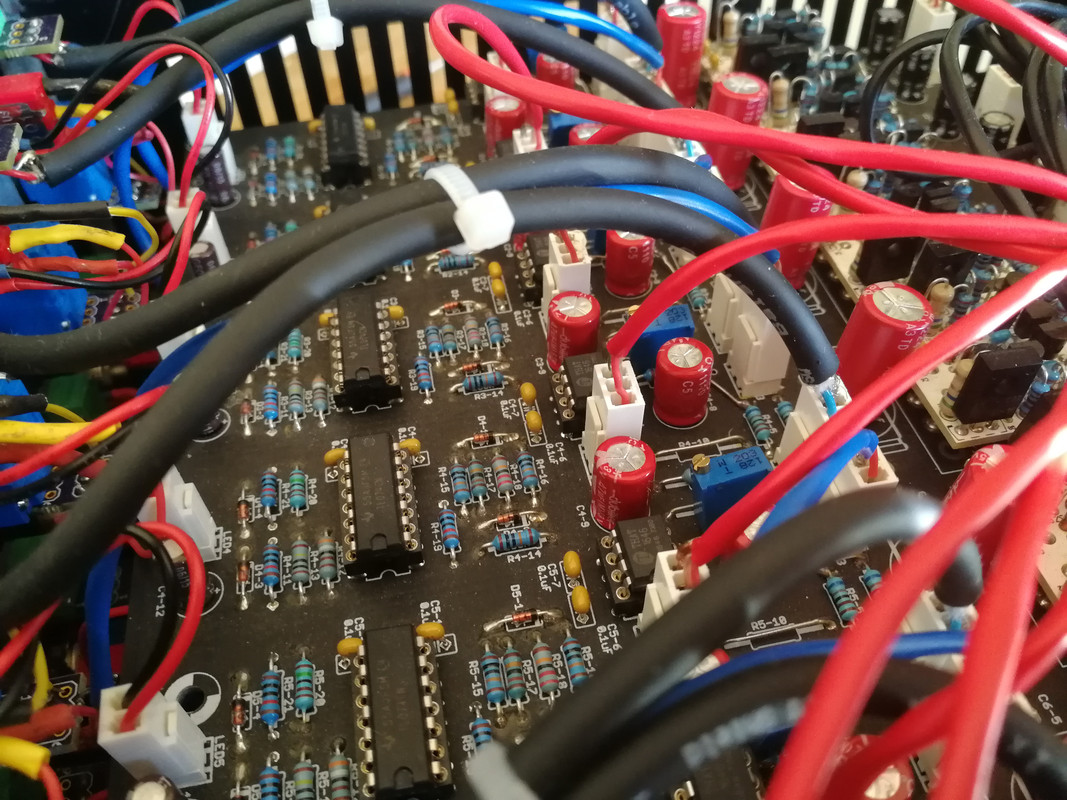 Modded each channels direct output from pre to post fader. That impacted the voltage seen by the output stage (THAT 1646) so to obtain unity to input I need to install a trimmer on each channel. The lack of modularity of the metalwork means everything has to go out of the case for service. I wonder how many times I've put it together, just to find something I need to re-adjust on the lowest board again.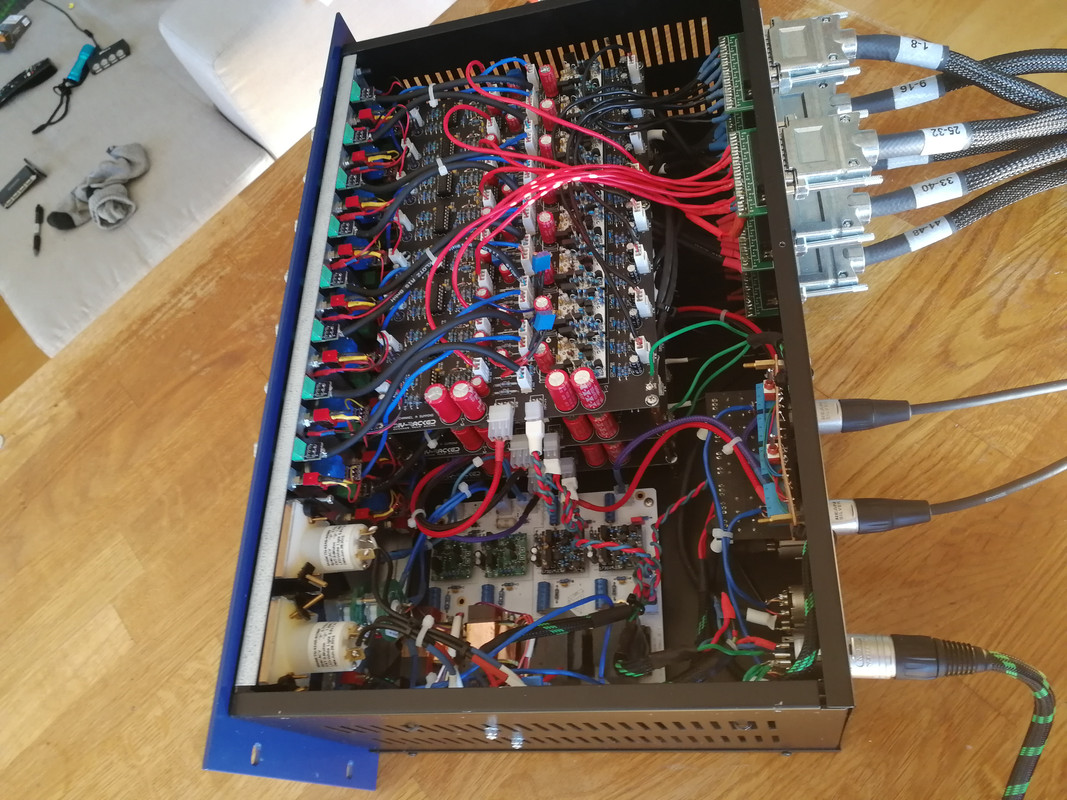 Barely visible is the custom monster 48 channel loom I got from Redco. Don't underestimate cabling expenses when it comes to bigger mixers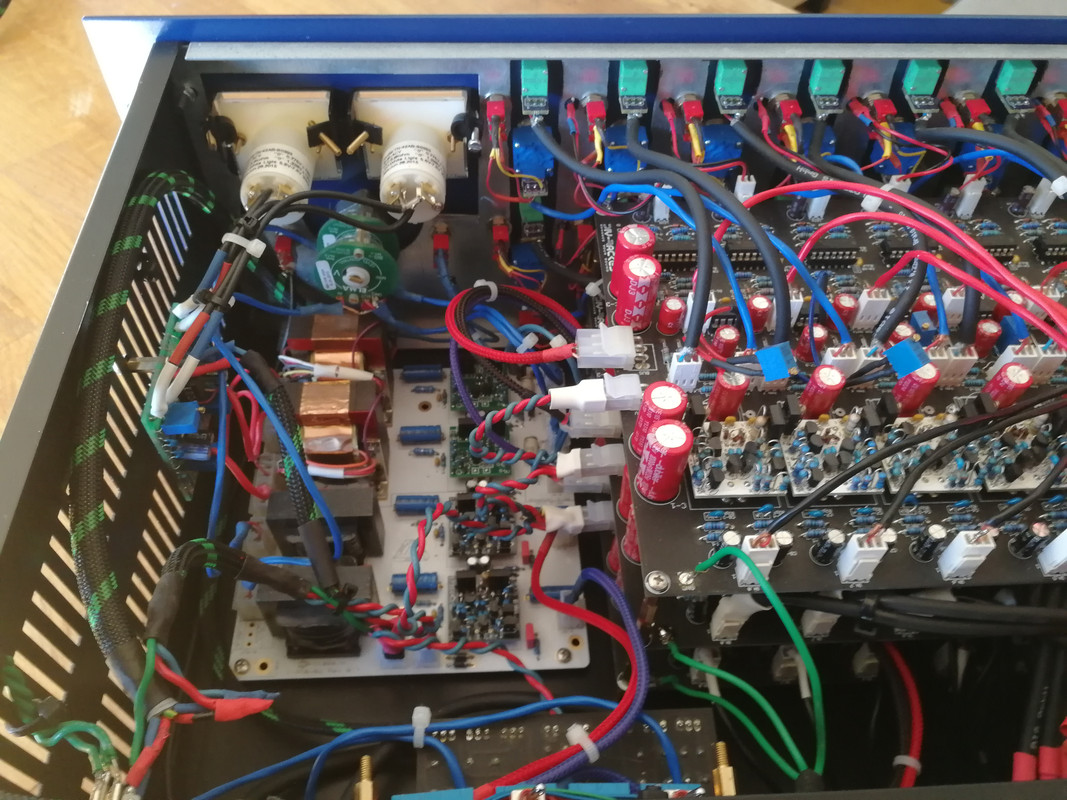 Elma 0.1% master rotary switch, buffered VU's, Litz 2623 and 2503's, relay controlled master insert for masterbus chain.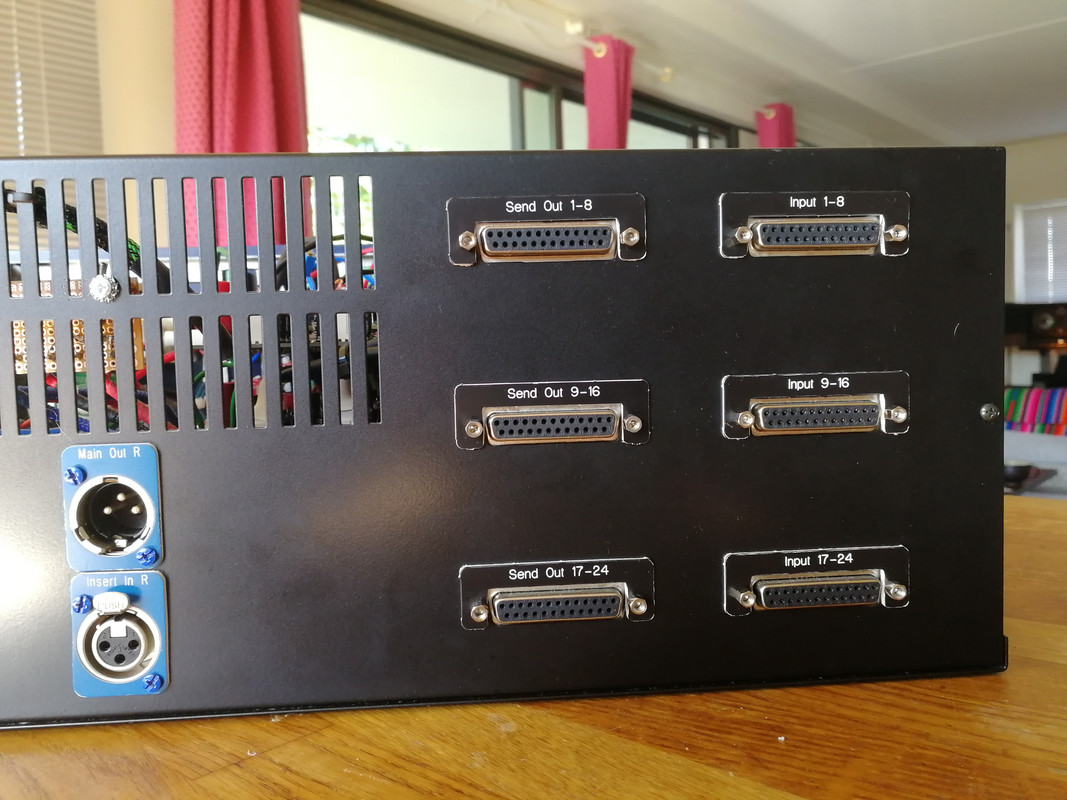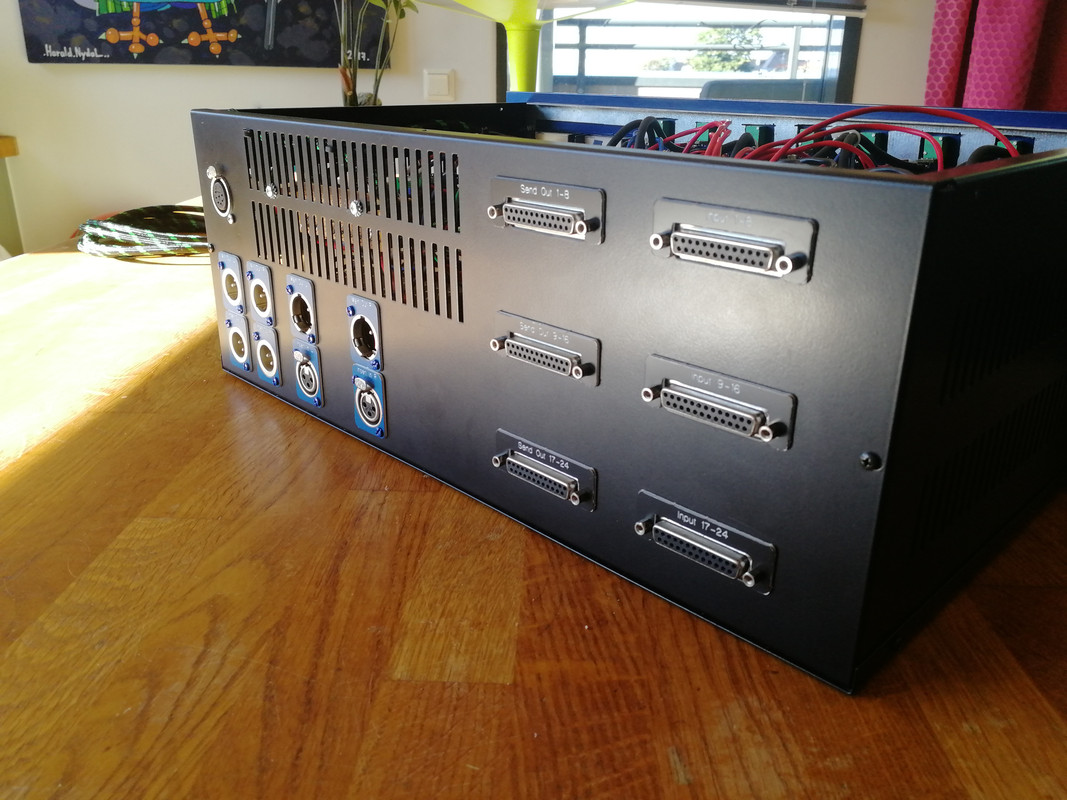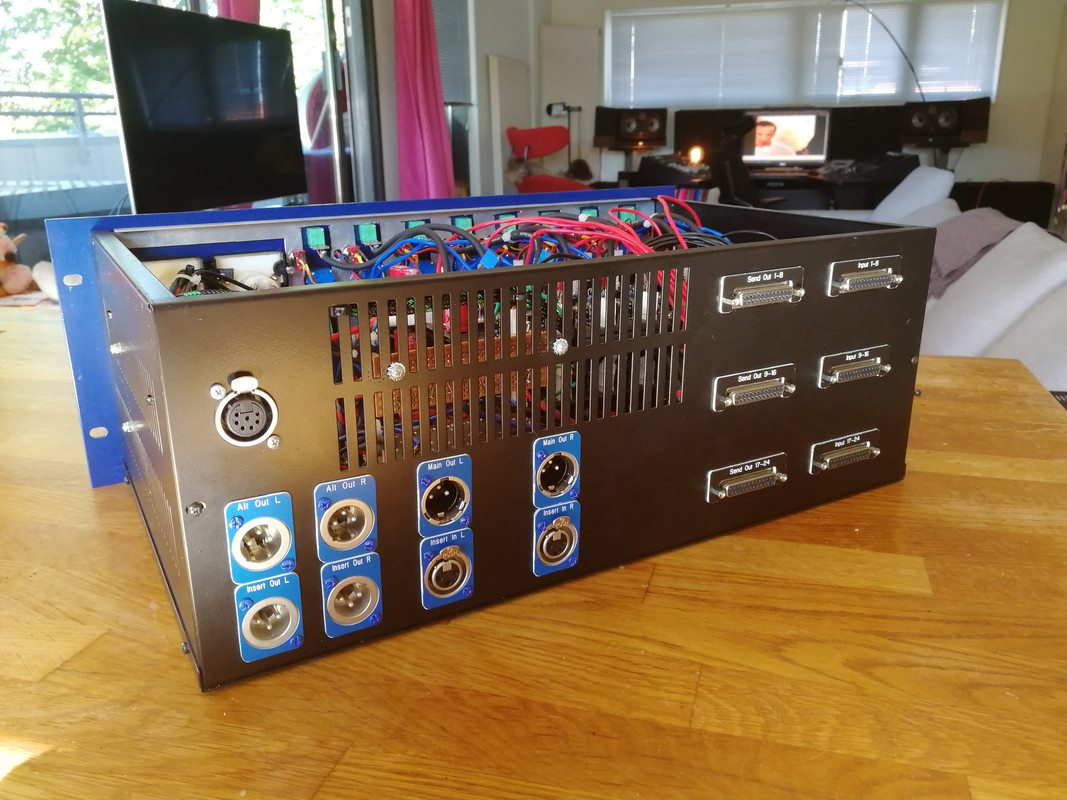 Labelled inputs and outputs.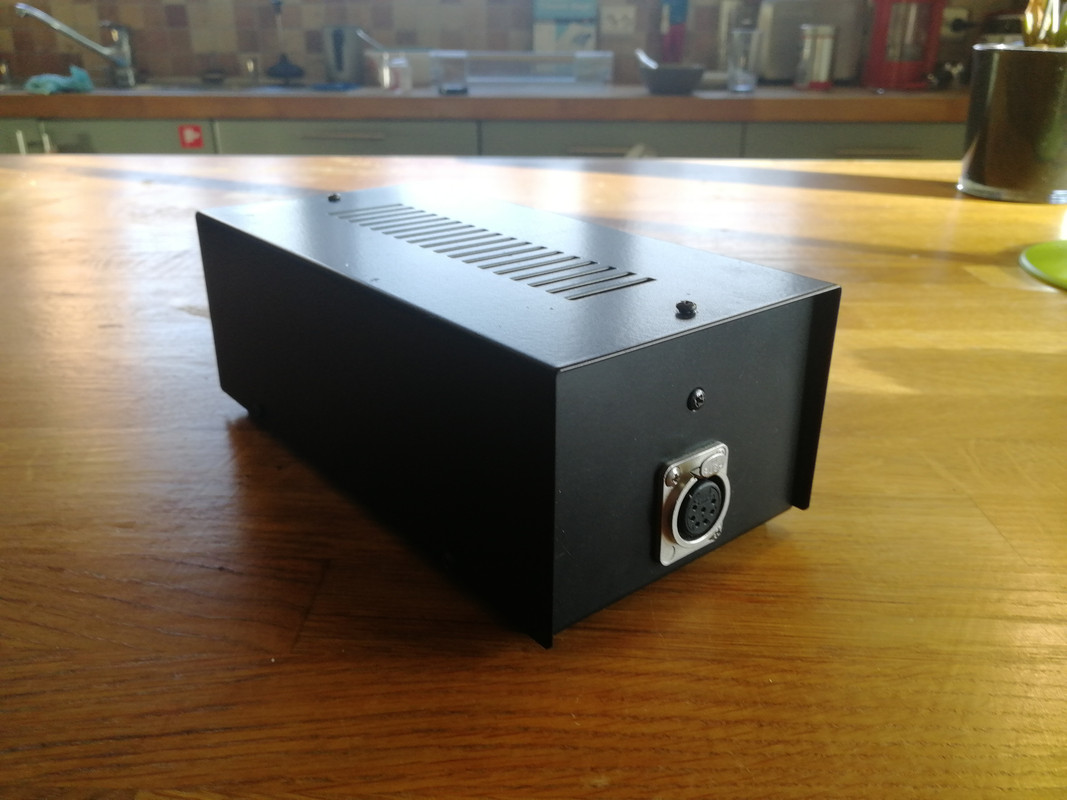 External linear PSU, LM333/LM350 based. Fitted the biggest heatsinks possible on regulators, they have about a mm clearance from the cover
the psu still gets pretty nice and warm under full load, also due to the heat from the toroidal that probably wouldn't hurt from being upped with another 20VA or so... but nothing bigger than the 60VA would fit! Well, if it aint broken....
This has been a labor of both love and hate, and I've learned so much in the years I've spent researching how this circuit works and how to put it together. If I knew how much work it was to use the provided case, and if I'd known about the housing alternatives and had the frontpanel design chops I have now, I'd definetively make my own panel. That API brand logo there is not totally kosher either....
I'm still a (almost) complete noob when it comes to electrical engineering, but the web (and especially groupdiy and this forum, along with muffwiggler) has been an immense resource, both for documents, project logs and previous and ongoing discussions on similar themes and builds.
Next up is a 16>8 AUX expander for it...
Joe from JLM audio has lots of great utility pcb's like the Tardigrade and Palpigrade, which balances or unbalances 8 channels at the time, with no wiring as it uses db25 connections directly soldered to the pcb. I wanted to use these in my AUX expander, but also wanted a tidy solution to the distribution of signals inside the unit. So Joe kindly offerred to whip up some pcb's, and after going back and forth on my needs (stereo channels, choice of dual pots or dual concentric pots for both mono and stereo sends, ribbon cable interconnection and choice of summing amplifier) the pcb's are ready, and construction can begin
https://www.jlmaudio.com/shop/aux8-pcb. ... x_prices=1
https://www.jlmaudio.com/shop/sum8-pcb. ... x_prices=1
I am planning to use the Palpigrade (x2) to feed 2x AUX8 pcbs, but use the CAPI inverting ACA for the actual summing, but the sum8 pcb will come in handy supporting the pots for the outputs and re-inverting the signal coming out of the ACA. Then the Tardigrade for the outputs of the sum8/aca, instead of transformers. Concentric pot on aux 1/2 (collapsed to mono, so I can use it for mono individual sends to my old echo'es), dual pots for stereo sends for the 3-8 channels to my stereo processors. Mute switch for each channel with momentary and latched function for dub-style bursts or just standard unmuting. But the pcb accepts dual and concentric pots on all channels, so it's up to you!
Here's the front-panel design I've been working on:
I will update the master section to reflect the SUM8, this is an earlier version with stepped switches in mind, that wouldn't fit in a single 500-series space. Oh, forgot to tell you about that, the channels are designed to line up to my 500-series rack, with each channel one 500-series width. Now to order up some test-panels to make sure everything fits snugly! When I'm certain it does, I could upload the panel design (as a 19" panel or individual 500 modules) so other people can use it as a start for their own design if they are so inclined.
Thanks again for having me!
Best regards,
Magnus